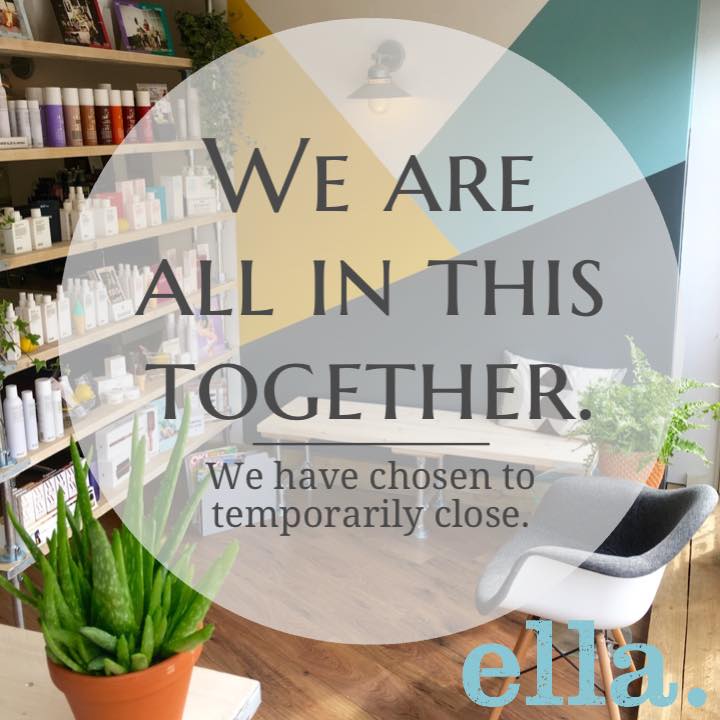 With the release of new government guidelines on social distancing, salon life will sadly be paused until the guidelines relax.
These really are crazy and uncertain times and we have no clue as to when we will be able to open our doors again.
But as soon as we have a date, we'll work through our diary and contact customers that already had appointments booked in.
We think this is the fairest way so that those that have had to wait the longest for an appointment will get offered one first.
In the meantime if you have any enquiries please email us on hello@ellahair.co.uk. Please don't call the salon phone as we won't be able to pick up our messages.
I am immensely proud of my team and the community of customers we have created within this salon.
So don't worry, we won't let this beat us, we will be back!!
Please keep in touch via our social media channels for updates on Facebook, Instagram and Twitter.
If you are a friend of the salon and would like to to show us your support we kindly ask you to leave us a Google or facebook review.
Thank you so much to everyone that has taken the time to get in touch with us and show us support.
I'm overwhelmed by the kindness we have been shown, it means a lot, especially when everyone else has their own issues they are working through.
Keep positive, stay safe and wash those hands 🙂
We look forward to welcoming you back when we get to the other side!